The Kingsville Christmas House Tour is a tradition in Kingsville, Ontario, the town across the lake from Pelee Island and where our main winery facility is located. Formed in 2003 and managed by a committee of volunteers, this house tour through some of our town's most beautiful and historic homes raises money for Migration Hall.
Migration Hall was a dream that began in the late 1980's when a dedicated group of teachers from Kingsville District High School and community leaders from Kingsville and Gosfield South joined together with a shared vision of a community-use facility. Today hundreds of events have taken place at Migration Hall since opening 1994. Athletics, artistic and academic functions have been hosted in this modern facility.
As with many things in 2020, the Kingsville Christmas House Tour is on hold as an event on the calendar but the holiday spirit that goes along with it cannot be dampened.
We've teamed up with our friends at the Kingsville Christmas House Tour to bring you an exclusive package! 20% of proceeds from special label "Christmas House Tour" wines will be donated back to the Kingsville Christmas House Tour & Migration Hall.
We also sat down with one of their volunteers and Interior Designer, Joan Balsam-Clark from All About Interiors Inc. to offer up some home for the holidays decorating inspiration and the perfectly paired wine for each decor style.
Sparkling Deco Glam
A modern classic, silver and white decorations bring dazzling Christmas bling to your home. Try adding fresh greenery, spray twigs white or silver and keep it sleek. Gold can be switched out for silver if that's more to your wish list. It's your time to shine!
If this were a wine, it would be our Lighthouse Sauvignon Blanc. The crispness of the wine and the white and silver label reflect this style perfectly.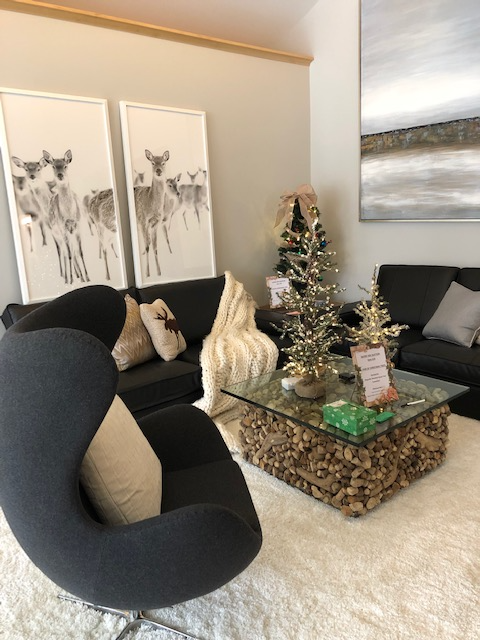 Design – Canadian Tire Decor
Modern Rustic – Natural Beauty
Simple, nature infused with a mix of textures. Let nature be the focal point. This style is very popular today as it allows for every day elements to be incorporated into the decor as well as natural found objects
If this were a wine, it would be our new Bella Red Sparkling VQA. Simple, understated yet still draws you in.
Design – All About Interiors
Christmas Nostalgic
Reminders of Christmas past, with stylings of comfort and joy. Winter scene artwork sets the tone of the memorable mantle decor.
If this were a wine, it would be a warm cup of holiday mulled wine. Snuggled up in front of the fire with the aroma of holiday cookies wafting in from the kitchen. A great base for mulled wine is our Pelee Rouge Bag in Box.
Design – All About Interiors
Canadian Cottage Cozy
Plaid in play! Think red and black plaid, accents of greenery and pinecones. What's old is new again! Keep it " Merry and Bright " with vintage inspired holiday decorating. Perfect for coming into after a day spent outside skating on an outdoor rink or pond.
If this were a wine, it would be our Bourbon Barrel Baco Noir VQA. Warm, rich and cozy. The simple, classic styling of the label honours tradition and a sense of place.
Eclectic Chic
Classic, charming, slightly bohemian very individual. A melding of styles that all seem to sing in perfect harmony. The key to this style is knowing one's own taste and not being shy about it.
If this were a wine, it would be our LOLA Blush Sparkling Rosé VQA. It's not one specific thing, it's the impression it makes and the mood it sets.
Design – Canadian Tire Decor
The Kingsville Christmas House Tour Committee hopes you will remember all the wonderful tours of years' past and help us to support Migration Hall by enjoying our 2020 fundraiser – A Christmas House Tour Wine Package from Pelee Island Winery. A wonderful way to share memories with, or gift family and friends who joined you on past tours. Free delivery anywhere in Ontario or order it to pick up at Pelee Island Winery in Kingsville.
Wishing all a safe and happy holiday season!
Cheers!
Pssttt… Don't forget while you're here to sign up for our Birthday Club and receive a $20 Gift Voucher for your Birthday!