Our Taste of Essex County Wine and Beer Package features 3 local breweries found "out in the County". Essex County that is.
Heading east of our Kingsville winery location to Leamington is Cured Craft Brewing Co.. To our west, Amherstburg is GL Heritage Brewing Company and Lot 10 Brewing Company.
Steeped in community, history and a sense of place, we are excited to partner with and share our neighbour's incredible offerings with you.
Cured Craft Brewing Co.
Cured Craft Brewing Co. is an independent, small batch brewery located in a renovated, heritage building in Leamington, Ontario. The building was erected in 1911 by Colonel William T Gregory upon arriving from North Carolina to Leamington to teach Canadians how to cure tobacco.
The Colonel was a key player in developing the tobacco industry in Ontario. He also helped Canadian troops fighting in WWI obtain much-needed supplies. His efforts awarded him the honorary title of Colonel. The Colonel G's Cream Ale in this package is named for Gregory.
Cured commits to using quality, local ingredients in all their craft beer recipes. You'll find real honey in their Honey Badger Wheat Ale.
The brewery has a taproom with a seasonal food menu, and indoor and outdoor seating for you to lounge about and enjoy your time away from home.
GL Heritage Brewing Company
In 1850, a young Thomas Waldron established his new home on Crown Reserve land in the old Malden Township. Jumping forward to 2021, after seven generations of lineage, this land still stays strong within the Waldron family. It is now the home of the GL Heritage Brewing Company.
The brewery is named after the patriarch of the current generation. It honours his own entrepreneurial endeavour Amherstburg's GL Heritage Motors and his example of determination and ingenuity.
The family's established roots continue the legacy of providing their neighbours with something which can connect us all. GL Heritage Brewing Company is proud to offer highest quality craft beer for our friends, family, community and beyond.
Lot 10 Brewing Company
Reaching back to its roots in 1798, William Fleming and his wife Archange, were assigned Lot 10 by Captain Hector McLean, the commanding officer at the garrison of Amherstburg. There stood a one storey squared-timber house measuring 22 feet by 15 feet.
The property saw many incarnations. Enter George Bullock in 1839 when this lot, which housed a 2-storey building, became known as "Bullock's Tavern". Then to become Bullock's British North American Hotel.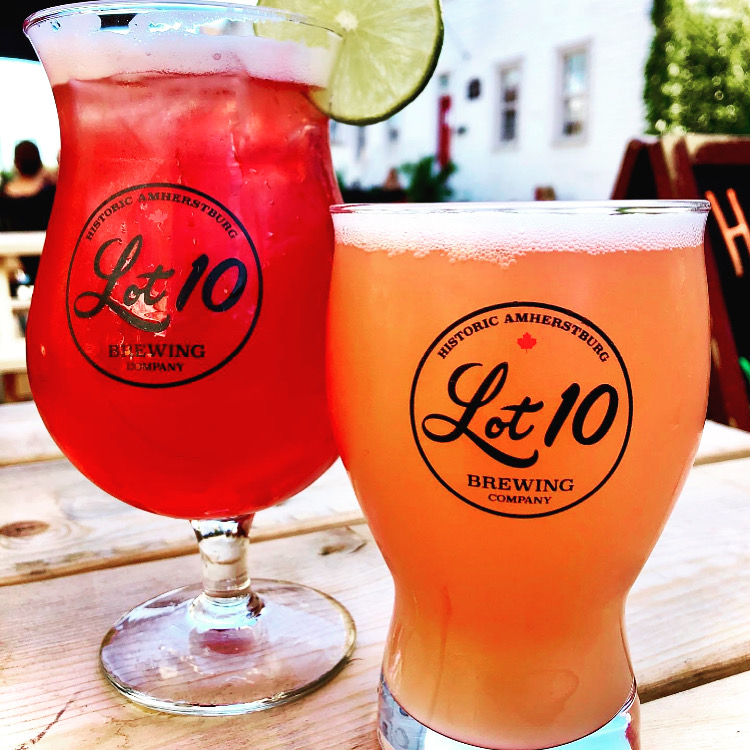 Its historical trail includes: the best fitted-out Saloon in Western Canada attached to it, a possible brewery, an inn, a store, part of an Essex County "scandal", childhood home of famous Deadwood South Dakota Sheriff, Seth Bullock, a barber, a bakery, a tailor, a book store, and a motorcycle parts shop.
Today, the family-owned Lot 10 Brewing Company offers a variety of their own specialty craft beers, 10 on tap, as well as an area for you to relax and enjoy live entertainment and local hospitality.
At Pelee Island Winery, with our own story and deep roots of wine making woven into the Essex County landscape, we are excited to partner with Cured Brewing Co., GL Heritage Brewing Co. and Lot 10 to share the history and taste of Essex County.
Cheers!